Baldness, droopy lids and X Mas -What is it?
Posted by admin@meditred.com - Posted on 05/22/2015 03:02:32 Lens and cataract
---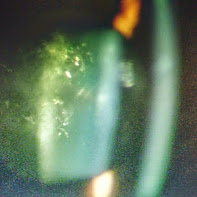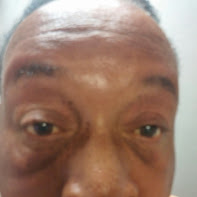 ---
65 year old male with baldness and droopy lids presents with decreased vision secondary to cataract. Examination of the cataract reveals what is shown in the photo. what is the diagnosis?

The slit lamp photo suggest crystalline cataract. The facial expressions suggest the possibiity of Myotonic dystrophy which is an autosomal dominant disorder characterized by wasting of the muscles, cataracts, heart conduction defects, endocrine changes, and myotonia. These patients typically have frontal balding with droopy lids and cataracts with crystals
---
---